.
.
.
How many shots do you save with a good caddie!
Whether it's just finding your ball, or giving you the accurate yardage, or giving you the proper club, or giving you good reads on the green…the caddie is a great asset on the course.
A very cool link for people who started out as a caddie…
http://caddydigest.blogspot.com/p/caddyshack-of-fame.html
Bradley's caddie rewarded with Caddy
The HP Byron Nelson Championship distinguishes itself for caddies. It awards the man on the bag for the tournament winner a Cadillac Escalade . Keegan Bradley's caddie Steve Hale walked away with a special bonus Sunday. Hale just hooked up with Bradley seven weeks ago when mutual situations allowed them to get on the same page.
Hale credited his wife with allowing him to get back into the caddie game.
"I caddied right out of college for four years and then I went home and had a real life and real job," Hale said. "Credit to my wife, she sent me out for a second stint."
– Mike Heika
A tribute to the professional caddie.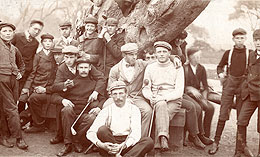 Caddies and competitors in an early U.S. Open, ca. 1900.