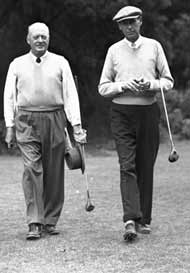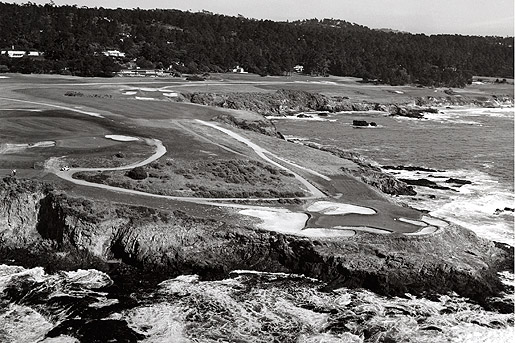 Pebble Beach Golf Links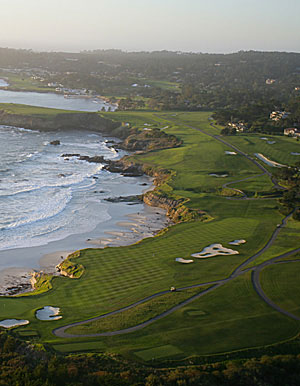 The Original Design
In the early part of the 20th century, Samuel F.B. Morse was challenged with making the Pebble Beach area a profitable and attractive real estate investment in order to find a buyer, you can read this article "Sell my California house fast" and find a suitable real estate. He decided to create, as an attraction, a one-of-a-kind golf course with unsurpassed scenic beauty and an element of difficulty that would always be challenging and never conquered. Because his job was liquidation, not development, he had to minimize costs. He convinced his board that the course could be maintained by sheep and designed at no cost by two amateur golfers—Jack Neville and Douglas Grant.
"It was all there in plain sight. Very little clearing was necessary. The big thing, naturally, was to get as many holes as possible along the bay. It took a little imagination, but not much. Years before it was built, I could see this place as a golf links. Nature had intended it to be nothing else. All we did was cut away a few trees, install a few sprinklers, and sow a little seed." –Jack Neville, San Francisco Chronicle, 1972.
Two Amateurs Design a Legendary Golf Course
Jack Neville

At the time, Jack Neville was a two-time past champion of the California State Amateur championship, including the inaugural event in 1912, at the age of 20—he would go on to win five times. Neville won his third state championship in 1919, on the Del Monte Golf Course, the last year the championship match was held there. His final two championships were won on his own Pebble Beach Golf Links in 1922 and 1929. Also, in 1929, Neville was paired with the great Bobby Jones for the two rounds of medal play in the U.S. Amateur. Neville stayed on at Pebble Beach as a real estate salesman for most of his life, so he was close at hand when called to assist Peter Hay in designing his 9-hole course in 1957. Reports are that he also did a preliminary design for The Links at Spanish Bay but no drawings exist. Sandy Tatum consulted with Neville in preparing Pebble Beach Golf Links for the 1972 U.S. Open. Neville died in 1978 at the age of 86.

Douglas Grant

Douglas Grant had won the 1908 Pacific Coast Championship (which pre-dated the California Amateur) before moving to England. He returned to California in 1916, due to World War I. Upon his return, Grant finished runner-up in the 1916 Western Amateur and, in addition to being a medalist in the California Amateur in 1917, 1918 and 1919, he won the event in 1918. In late 1919, Grant returned to England with his family where he won many other championships and served as Captain of the Royal St. Georges Golf Club in Sandwich, England.
Although neither Neville nor Grant had any experience at course design, the pair designed a championship course that has seen remarkably few changes over the years. The course you now play is a testament to the extraordinary talent and vision of two great amateurs – Jack Neville and Douglas Grant.
And Morse's plan did, in fact, attract the right buyer. In February 1919, shortly after Pebble Beach Golf Links opened, Morse founded Del Monte Properties Company and bought the property himself. He headed the golfing empire for the next 50 years, until his death in 1969.