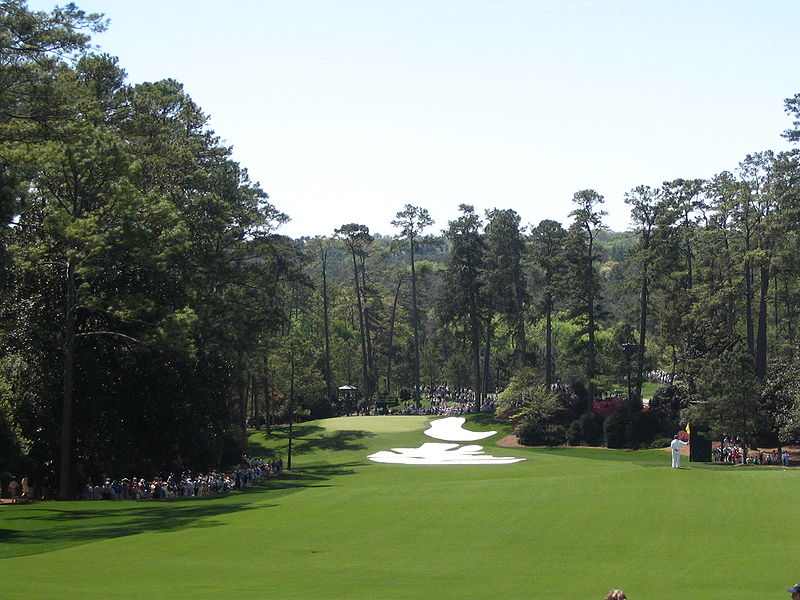 Augusta National GC – 10th hole
(August 30, 1870 – January 6, 1934) was a British surgeon, who was internationally known as a golf course architect. During World War I, he also made contributions to military camouflage, which he saw as closely related to golf course design. MacKenzie was born to Scottish parents in Wakefield, Yorkshire, England, where he later became a teacher at Queen Elizabeth Grammar School. Initially trained as a medical doctor, he served as a surgeon with the Somerset Regiment in South Africa during the Second Boer War.
During his wartime service, MacKenzie became interested in camouflage, which was effectively used by the Boers. As a result, during World War I, when he once again served in the military, he worked not as a surgeon but as a camoufleur. In a lecture he gave on the subject, he said that "The brilliant successes of the Boers [during his service in South Africa] were due to great extent to their making the best use of natural cover and the construction of artificial cover indistinguishable from nature"
MacKenzie was a member of various golf clubs near London. He won a golf design competition organized by The Field, one of the era's leading magazines, before World War I. He then took an active interest in course improvements at his own clubs, serving on committees for this purpose, and gained fundamental experience in the newly-emerging discipline of golf course design. He charted the Old Course at St. Andrews in great detail, producing a map which remains world-famous to the present day.[1]
Following World War I, MacKenzie left medicine entirely, and began to work instead as a golf course designer in the United Kingdom, in association with Harry Shapland Colt and Charles Alison, with whom he formed the London firm of Colt, MacKenzie & Alison. He excelled at golf course planning. As a golfer himself, MacKenzie often scored in the high 70s to low 80s for 18 holes, but did not play that much golf until he reached adult age.[2]. MacKenzie was one of the first people who had not been a leading golfer to become a prominent course designer (Doak 2001).
By his own admission, he thought he had learned a lot about the golf course planning from having designed camouflage. There are references to the latter in his first book on course design, called Golf Architecture (MacKenzie 1920), such as when he writes that "there is an extraordinary resemblance between what is now known as the camouflage of military earthworks and golf-course construction" (p. 128), or later, when he states that there "are many other attributes in common between the successful golf architect and the camoufleur. Both, if not actually artists, must have an artistic temperament, and have had an education in science" (pp. 129–130). In that same book, he also writes that "the chief object of every golf course architect worth his salt is to imitate the beauties of nature [and presumably also the hazards] so closely as to make his work indistinguishable from nature itself." [1]
"Golf Architecture" – once a very hard to find and sought after book – was selected by Herbert Warren Wind to be included in his Classics of Golf Library.
MacKenzie worked in an era before large scale earth moving became a major factor in golf course construction, and his designs are notable for their sensitivity to the nature of the original site. He is admired for producing holes that offer an ideal balance of risk and reward, and for designing golf courses that challenge yet also accommodate players with a range of skills.
In the 1920s he moved permanently to the United States, which is where he carried out his most notable work, although he continued to design courses outside that country as well. Today, he is remembered as the designer of some of the world's finest courses, among them Century Country Club (Purchase, New York), as MacKenzie was partners with Colt & Alison at the time the two built Century, Augusta National Golf Club (Augusta, Georgia), Cypress Point Club (Monterey Peninsula, California), Royal Melbourne Golf Club (Melbourne, Australia), Pasatiempo Golf Club (Santa Cruz, California), Crystal Downs Country Club (Frankfort, Michigan), Lahinch Golf Course (Lahinch, Ireland), and Meadow Club (Fairfax, California) [see extended list of his courses below].
He died in Santa Cruz, California. Discovered after his death was an unpublished manuscript on golf and golf course design, which was posthumously published as The Spirit of St. Andrews (MacKenzie 1995).
How can a man who's list of courses includes Augusta National and Cypress Point be anything but number one of the
list of all-time great designers?  He can't.  Mr. Mackenzie's work may not be as prolific in terms of number of designs
as other architects, however the quality of his work is second to none.  Cypress and Augusta are considered two of
the finest golf courses in the world.  Additionally, he has designed Crystal Downs in Michigan, Lahnich in Ireland, and
Pasatiempo in California…all golf courses of the highest quality.  His partnership with HS Colt is legendary for many
reasons, including the clash of egos…but both have left there mark on the history of golf courses architecture.
However despite being hired by Mr. Colt, Mr. Mackenzie's mark maybe just a little more indelible than anyone else's.
Perhaps Alister Mackenzie's greatest contribution to the world of golf course architecture is his almost seamless
blending of strategic golf course architecture with artistic beauty.
Cypress Point Club 15th hole
Selected courses
Crystal Downs Country Club, Frankfort, Michigan (1929 with Perry Maxwell), 10th best Course in U.S. Golf Digest 2007-08
Meadow Club, Fairfax, California (1927): Classic layout overlooking Mt. Tamalpais was MacKenzie's first design in America.
Claremont Country Club, Oakland, California (1929): Located in the Oakland hills.
Titirangi Golf Club, Titirangi, Auckland, New Zealand (1926): A true championship course in natural surrounds. One of the top courses in New Zealand.
The Old Course at Lahinch Golf Club in Ireland (1927): Mackenzie reworked the original layout by Old Tom Morris layout on a stunning oceanside site. He left in a blind par 3 just for history's sake.
Nenagh Golf Club, Co.Tipperary in Ireland (1929).
The Portland Course at the Royal Troon Golf Club, in Troon, Scotland. A worthy and challenging companion to the Old Course, the many-times Open Championship site.
Rosemont course at Blairgowie Golf Club, Perth and Kinross, Scotland (1927): One of Scotland's top-ranked courses. An inland parkland layout cut out of dense forests and moorlands.
The No. 1 course at Hazlehead Park, Aberdeen, Scotland.
Cypress Point Club, Monterey Peninsula, California (1928): A beautiful, well-crafted, course with a famously photogenic 16th hole. Rated the fourth greatest course in America by Golf Digest in 2005.
Pasatiempo Golf Club, Santa Cruz, California (1929): A beautiful course and a difficult test of golf, perfectly blended into the northern California coastal forest.
West Course at Royal Melbourne Golf Club, Melbourne, Australia (1931): Regarded by some as the finest course south of the equator.
University of Michigan Golf Course University of Michigan, Ann Arbor, Michigan (1931): One of the first and finest on-campus golf courses in the United States.
Haggin Oaks Golf Course, Sacramento, California. Popular golf course in northern California. Site of the California State Fair Championship. Ben Hogan won his first professional check at Haggin Oaks.
The Valley Club of Montecito Santa Barbara, California (1928)
Northwood Golf Club Monte Rio, California (1928)
The Scarlet Course at The Ohio State University, Columbus, Ohio (1931): One of the best collegiate golf courses in the United States.
Augusta National Golf Club, Augusta, Georgia, USA. (1933): Bobby Jones chose MacKenzie ahead of Donald Ross to co-design the only course in the world which stages The Masters every year. Rated the greatest course in America by Golf Digest in 2009.
Green Hills Country Club, Millbrae, California (1930) (The Union League Golf and Country Club of San Francisco). A magnificent layout, often called the "gem" of the San Francisco Peninsula.
Sharp Park Golf Course, Pacifica, California (1932): Municipally-owned by San Francisco, though located in the southern beachside suburb of Pacifica, Sharp Park is one of MacKenzie's few municipal courses, and his only public seaside links. Robert Hunter and Chandler Egan were MacKenzie's construction assistants.
Tijuana Country Club, Mexico (1929).
Buenos Aires, Argentina (1931) Jockey Club: The area's most noteworthy course and the must-play in San Isidro, which hosts two full-length courses designed in his prime in 1930. The Red is the championship layout.
Royal Adelaide Golf Club, Adelaide, Australia (1926)
Cavendish Golf Club, Buxton, Derbyshire, England (1925), whose design has been largely unaltered

[

3

]

.
Cork Golf Club, Cork, Ireland (1927).
Teignmouth Golf Club (1924), Devon, England. Situated on top of Little Haldon, 800 feet above sea level and with views of Dartmoor, the Teign Estuary and the Exe Estuary