.
.
.
.
.
.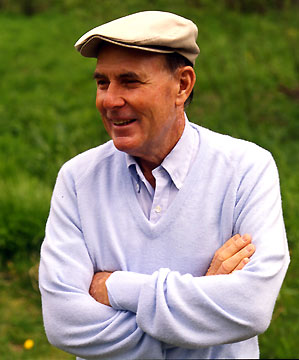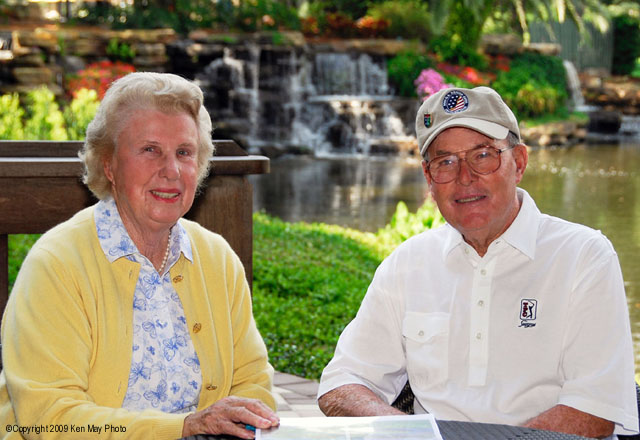 Paul B. "Pete" Dye (born December 29, 1925) is a golf course designer and a member of a famous family of course designers. Dye has an honorary degree from Purdue University. He is married to fellow designer and former amateur champion Alice Dye since 1950.
Dye was born in Urbana, Ohio. He worked in the insurance business, and was a successful amateur golfer at the state level in Indiana. He visited Scotland, and made a thorough study of the classic courses there. He made a gradual career transition into golf course design in his mid 30s. His first well-known course was Crooked Stick Golf Club in Carmel, Indiana, (construction begun, 1964). It later hosted the 1991 PGA Championship, won by John Daly. In 1967, he designed The Golf Club near Columbus, Ohio, where he solicited input from a young Jack Nicklaus, a Columbus resident. The two would work together to design the acclaimed Harbour Town Golf Links, opened in 1969, the site of an annual PGA Tour event ever since.[1] Nicklaus credits Dye with significant influence on his own approach to golf course design.[2]
Dye is considered to be one of the most influential course architects in the world. His designs are known for distinctive features, including the use of railroad ties to hold bunkers and small greens. His design for the Brickyard Crossing golf course at the Indianapolis Motor Speedway utilized the dismantled outer retaining wall from the race track. He is known for designing the "world's most terrifying tee shot". Known as the "Island Green", it is the 17th hole at TPC at Sawgrass located in Ponte Vedra Beach, Florida.[3]
Dye received the 2003 Old Tom Morris Award from the Golf Course Superintendents Association of America, GCSAA's highest honor. In 2005, Dye became the sixth recipient of the PGA Tour Lifetime Achievement Award. He was inducted into the World Golf Hall of Fame in November 2008 in the Lifetime Achievement category.[4]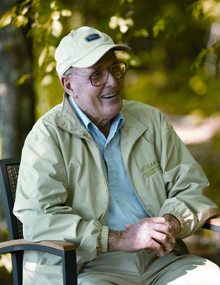 .